Pet Cremation Services in Rochester, NY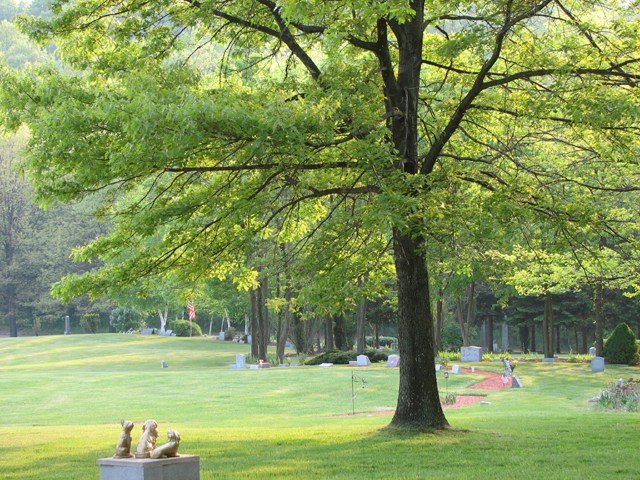 Rush Inter Pet has been operating for over 42 years and has been performing pet cremations for over 36 years. We service dozens of animal hospitals in Rochester, NY, and the surrounding counties. As experts in the pet crematory and pet cemetery business, we have always run our business according to New York State law, following our state's regulations and terminology. Each pet is very carefully labeled from the moment we receive it, and we keep all the information with the pet until the final processing and packaging of the cremated remains is completed. Contact us today!
Cremation as an Individual Pet
Our two crematories at Rush Inter Pet are for human-size cremations, with the large interior measuring 8 feet from front to back. Because the inside of the crematory is so large, we can carefully separate pets from each other using more than adequate spacing. Taking even more care, we place stainless steel dividing separators between the pets.
Private Pet Cremation
With the private cremation of a pet, only one pet is in the large human-size crematory. For over 42 years we have offered this type of cremation at the request of the client. This service is more expensive, costing more than "cremation as an individual". If the family would like to attend the private cremation, they may make an appointment with us to do so.
Pet Urns
A pet is like the closest friend whose demise brings devastation and grief. With our range of urns, caskets, keepsakes, and memorial stones, you are assured that your dearest pet is never out of the way. Our array of beautiful urns is great for you to store the ashes in; we also offer to engrave more relatable memories. In some scenarios, urns allow friends and family to take portions of the remains as a soothing tribute, and unique urns will reduce the tension about who to keep the remains of the cremated pet. From Cat Urns, Urns for pets 25-100 lbs, Wood Urns and Exotic and Small Pet Urns. Please reach out for more advice and information on what better suits your needs. Whether glass, ceramic, metal, stone, wooden, or marble. With thoughtful details engraved, please take comfort in our collection of high-quality, memorable urns with a complimentary finish.
Pet Cremation Jewelry
Memories are sentimental treasures engraved in the lives of loved ones and family. When a pet dies, it becomes a memory that rings in one's mind each time. Cremation jewelry offers a meaningful, stylish means to hold your dear pet's ashes wherever and whenever you wish. At Rush Inter Pet, Inc., we provide an amazing selection of charms, pendants, and bracelets to make you feel closer to your pet. Our bespoke jewelry keeps memories alive, giving you that closure you have long desired. It reflects your special pet's life, creating an everlasting memory. Holding it close or wearing it enables one to connect with their deceased pets. We aim to make your grieving a tiny bit peaceful. Find inspiration in our cremation jewelry that places your loved pets close daily.
Need Pet Cremation?
Saying goodbye to your most loved pet can be devastating and painful. Finding a service provider who will make your cremation need as easy and smooth is what you deserve to feel better about after losing your loved one. Currently, pets and, in general, animal cremation are undergoing a metamorphosis. The mini-revolution in the industry is a positive competitive assurance that one can get the best services. Pet crematoriums listed by the state must adhere to a code of conduct and ethics.
Do you need cremation services in and around Rush or Rochester, NY? Rush Inter Pet, Inc. is your ideal plug as we will ensure extemporary high-level services to you and your beloved pet. We will get into your grieving shoe and offer a shoulder to lean on. We will treat your pet like one of your family members with everything beautifully set, giving you and your loved ones bewildering services for excellent value.